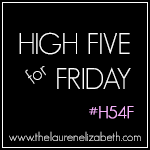 1.) Christina and I bought tickets to see Brad Paisley, Chris Young, and Danielle Bradbery. Mr. Paisley has come here to the Twin Cities a number of times, and I have yet to see him. Finally on November 16 I will.
2.) The bestie comes back from Vegas tonight, and I will be picking her up at the airport tonight. Hopefully I'll get to see her for a while before she heads back to Wisconsin.
3.) I'm finally getting over my sickness, that kept me out of work for two days this week. it was terrible! Ry-guy doesn't think you can catch a cold in the Summer, well you can! He did and passed it on to me. yuck!
4.) This happened this week. as in the album came out. OH M GEE.
5.) We managed to eat at home four nights this week. That's kind of a record in our book. No eating out. No ordering pizza. Home cooked meals. YUM!
TGIF!
What are you doing this weekend?