Happy 4th Birthday Dexter Morgan!
Linking up for the first Tall Tails post.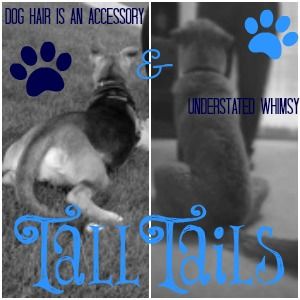 Dex was born July 2, 2009 in Northfield, Minnesota. I saw him online and fell in love with him instantly.


A few days later I was off to make this little boy mine. I was in the middle of a break up. This little boy helped me through that break-up, kept me company in the cold Winter months, celebrated Thanksgiving and Christmas with me.
Then a few short months later, a super tall man came into our life. Who knew this man , who wasn't really all about small dogs (dogs under 20lbs) would become the best Papa a pup could ask for.
I never thought I would be that person that brings their dog with them all the time, but I am. I make sure we can bring Dexter with us before going on a vacation, even if its just for the weekend. I hate leaving him with someone else. and I'm pretty sure he hates it. This dog is more than a dog to me, he is my life.
things I like
car rides-water-slushies
being a daredevil-treats-the dog park
eating dinner-big bones
ice cream-being a bedhog-snow
Other things (not pictured) Dexter enjoys are:
-the lawnmower
-kittens
-cheetos
-chasing rabbits
-cuddlin'
-carrots
-apples
-oranges
-smooches
-french fries
-"pretending to" bury his bone
-cat food
things I really dislike
pinterest project fails- pool time
bath time-umbrellas
the vet-wearing costumes for holidays-the kennel (which we haven't used since he was 9 months old)
Other things (not pictured) he doesn't like:
-rain
-not being around mama or papa all day
-the vaccum
-the bug zapper
-the nail clippers
-mama or papa leaving and not taking him with
-another person/pet receiving attention
-lettuce
-getting my teeth touched
Papa and Dex
(and a few family shots)
Dex thanks for always being up for whatever adventures I insist you join. I've had other dogs growing up, but none as wonderful as you. Most days I'd rather stay home with you, than hang out with humans.