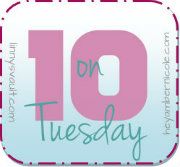 1.) Clearly I've learned to compromise in this relationship. We are seeing A Good Day to Die Hard, as our date night for Valentines Day. Yup, not exactly my idea. but Ry-guy is extra special to me so I caved. I actually went above and beyond and scored some advance screening passes for tonight. Two days before everyone else gets the pleasure to see it. I spent Monday night trying to watch Die Hard, and the couple others. I made it through one. whew! Bruce Willis actually has hair in this flick.
2.) Ry-guy finally got fed up with the magazine addiction situation. Monday night I came home to this. I was also told I need to read the magazines. He told me some issues are from '11. whoops!
3.) I think I'm the only person not watching The Walking Dead. The subject doesn't interest me one bit, but everyone I know is watching this show. Am I really missing something? Its been on my Netflix Instant Queue forever.
4.) I learned this weekend you can't please everyone, and I certainly can't win them all. Slowly trying to come to terms with this.
5.) Am I the only person with a cat who does this? I feel like he's slightly abnormal.
6.) If you're in the market for some new tunes, do yourself a favor and get the new CD's by Gary Allan, Tim McGraw, Bruno Mars, Alicia Keys, the soundtrack to TV's Nashville, and Ne-Yo. Some of these CD's might not be brand new, but soooo worth a listen, and a purchase. Don't steal your music!
7.) Speaking of paying for music. I actually purchased this song. I'm obsessed. Please still be my friend.
8.) I have developed a serious girl crush on Kate Upton, daymmnn girl!
9.) I'm so mind boggled at this Chris Brown and Rihanna romance. She gets the crap beat out of her and she is all lovey dovey with him. #idontgetit #somegirlsneverlearn
10.) I'm excited that Ry-guy will be guest blogging a few times in the coming weeks! #getexcited