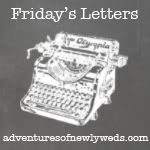 dear books,
I'm glad we've found each other again. I'm loving
Gone Girl
, I can't wait to see how you end.
dear kitchen table,
glad you're here. I've missed eating on a table.
dear cast,
I'm hoping we'll be together only a week or two longer. I hope the doctor thinks the same way.
dear Christmas cards,
I need to find a family photo-stat! Otherwise our Christmas cards are gonna be lame-o.
dear cutest kids on the block (aka- niece and nephew),
I'm so glad I had the chance to spend a few hours with you. I love you guys so much! I laugh so much when we hang out.
dear Minnesota Timberpuppies,
I'm glad NBA basketball is back and I love watching you guys play.
dearest Dexter Morgan
, you are meeting
Santa
next Saturday-let's try to not have a meltdown this year.