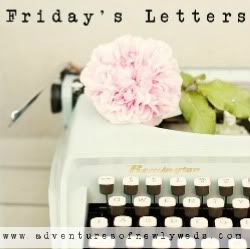 Dear Friday,
Glad you're here. I've been uber busy this week and can't wait to relax. I've been missing Dexter Morgan. I'm excited to have little Dexie back with me on Sunday
.

Dear new landlord
, I'm excited to be signing the lease tonight. I can't wait to be moving in next week.woohoo!
Dear Ry-guy,
only six more days till I see you face. I'm not sure if I remember what you look like-after a month and a half apart.
Dear H

u

lu
, could you get your shit together and acutally play the show I want to watch,when I want to watch it. This skipping and freezing up isn't very cool-it really is frustrating. My queue is filling up and I need to catch up on the new shows people are talking about.
Dear hair,
I will get you done real soon..mmkkayyy? I hate seeing you in this condition.
Dear Gophers
,
let's
try to win one again this weekend. you started off so well and now you are back to your normal self.
Dear Bl
og,
I'm going to work on having all my posts done this weekend so I don't have to freak out each day about what to post. I'm hoping to get my creative juices flowing again.
Dear closet
, I'm going to take better care of you and fill you back up again. Its been to long since I've done any shopping and I need some new gear before the snow starts. let's do this!
Dear Thumb,
can you pleaseeeeeeeeeeeeeee stop hurting? I don't have insurance till November 1st and I don't know if I can take your pain that long.
Dear Alex Cross movie,
I can'

t wait to see you. You look so good. I hope Tyler Perry can pull of playing someone other than Madea.
Dear books,
we're going to get

re-antiquated

this weekend. I can't wait. There are so many of you good ones

I need to read immede.
What are you doing this weekend?