swap posting reveal number 154152015203. I've lost count. I did tell myself to try to cut back on the swaps for October. This swap was one of my favorite swaps of all time.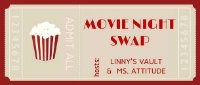 Why you ask? Well because it involved sending movies. One of my very most favorite things. You see back when we had these things called "video stores", and people liked to go and wait in line at times for half hour to 45 minutes ( I kid you not)-I worked a a video store and manged a Blockbuster Video for four years. It was pretty cool. The best part was the free rentals.
Sorry, got sidetracked again. So the awesome
Lin
and
Ms. Attitude
hosted this swap.
The package we sent had to include the following:
(fun fact, I don't eat popcorn,
I despise it
. I do love me some kettle corn)
I was partnered up with
Melissa
- She hit the nail on the head. I love DOTS! Yum!
Bride Wars, Pride & Prejudice and Thee Amigos!
I don't think I've seen Pride & Prejudice (at least this version)
I can't wait to watch Three Amigos! I love all those comedians.
Thanks Melissa!