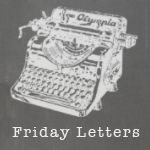 Dear Friday,

I'm sad you've arrived. This means I only have two more days with my lover. He only has two more days with Dexter Morgan and me.

Dear Missouri

, I had so much fun while I was here. Even though people can't drive for shit down here. It was still fun, minus the numerous attempts on my life by people texting and driving or just not paying attention.

Seriously don't text and drive.

Dear Everyone I had the pleasure to visit with down here

, thank you for getting me out of the house and social. I often shut down and want to be left alone to read or hang with Dexter. It was great to chat it up with. Until I see you again

. Dear Golden Gophers

, should I dare encourage you to win again tomorrow. OMG we would be 3-0. Make it happen!

Dear Nail polish swap partners,

I love all the colors I've received. I hope you're as happy with your colors as I am with mine. Can't wait to link up next week with you.

Dear Kristen Stewart

,

I don't know you and this is mean to say, but I don't think I would like you very much. I hate watching movies with you in them. I think you are a terrible actress. I don't mean to sound like a big bully. Just a personal preference.

Dear hockey players, NHL and owners,

please come to some sort of agreement ASAP. I love watching you. Being from the state of Hockey winter won't be the same without you or a shortened season. I've been looking forward to a Wild game since last year.

Dear used book stores,

wozzers, thanks for being so awesome and stocked with all the books I was looking to get today. This will keep me busy in the Winter, when I can't leave my house due to a massive snow storm.

Dear Apple Orchard

, this girl and Ry-guy will be coming to visit you very soon.




What are you doing this weekend?