A while back I was reading my People mag when I saw this great story.
Storm Williams Boosts Soldiers' Morale with Books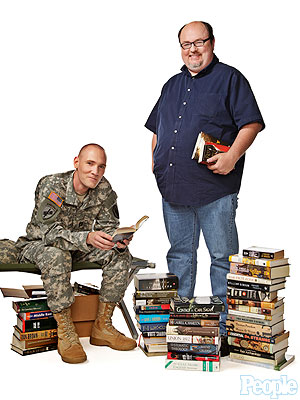 ANDREW BRUSSO
When Storm Williams had buddies deployed to the Persian Gulf in 1991, he saw a news report describing the monotony and isolation of war – and he felt for them.
"These guys had nothing to do," says Williams, 49. "So I boxed up all of my paperbacks that I had read, and then I guilted friends out of their books and magazines and everything else you can think of and sent it out."
After putting out the first batch, Williams was surprised to receive heartfelt letters from soldiers he didn't even know.
"Somehow or other I got one of your books and I really do appreciate it," one wrote, adding that he'd read the book four times.
"Even a year after they had come back, I was still getting notes of thanks," adds Williams.
Moved by his experience, Williams decided to make a mission of it, and in 2003, after troops were sent to Iraq and Afghanistan, launched
Books for Soldiers
, a non-profit dedicated to keeping soldiers entertained overseas with care packages.
A Massive Effort
Since 2008, Williams and his volunteers have sent upwards of 96,000 parcels stuffed with books, CDs and DVDs.
Touched by responses from soldiers, Williams, a Lewisville, N.C., business technology strategist, eventually created a website matching soldiers' book requests with volunteers nationwide.
"Some of these guys have had eight or nine deployments while we're at home in air conditioning. We find the books they want –
Stephen King
and
Tom Clancy
are favorites – write letters, throw in cookies, candy or pencils, and create a care package. It doesn't cost much," says Williams.
He says he has even heard from a few soldiers who told him his books and thoughtful note helped pull them back from the brink of despair.
Says Williams: "This sometime saves lives."
Army Reservist Cpt. Brandon Mace, of Fort Rucker, Ala., read more than 100 books – including the Star Wars series – sent during his deployment in Iraq in 2009 and 2010.
"Knowing that someone would spend their own money and go buy books for me was so great," says Mace. "It was a reminder that someone's thinking about me, that someone cares."
We all know how much this girl loves her books! I love sending care packages as well. So I figured this would be perfect for me.
I have a zillion samples, and junk from hotels, birchbox randoms, and stuff I've been given in swaps (that I won't be using) that I can send to the Troops.
I couldn't imagine being in a foreign country,

serving in a WAR

, and not be able to still feel like a lady. I can't wait to send my first package to the service men and women, serving for our FREEDOM.
I know how much bloggers like to send packages.
Perhaps you would send one to. I would love to hear if you do send one.