Oops I did it again. Another swap. Jeesh! A while back I signed up for "Christmas in July".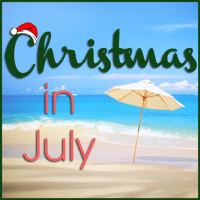 I was super excited to see what I might receive. My girl
Kelly
did not disappoint.
All of my goodies...
Top- L-R. This aaaaahhhhmayzing Peach Sparkle lotion from Bath & Body-works. Ryan told me to
"slather that shit all over me every day."
I'd say he likes it! Nail polish-love! Chelsea Handler book. I used to watch her show before bed, but now Mama can't stay up that late on a school night. She hand wrote notes to each item. It was so sweet. Girl knows I love to
scrapbook
. She included some fun Summer time stickers.
Bottom, L-R. Two facial masks. I love these things. I've done the chocolate one before, and it smells like chocolate. YUM! Some doggy treats for Mr. Dexter Morgan. He loved them.
She also sent some lip-gloss that I seemed to have misplaced.
He even his friend Riley over for the past month and they shared a lot of treats.
Thank you sooooo very much Kelly!