I can't believe I've been blogging for almost a year. Whew what a change its been. Moving 602 miles away from home, starting out in a new city, finding a job and friends. eek!
I stumbled across this site, with a link-up. The link-up is posting your first blog post ever. eep. Here goes nothing.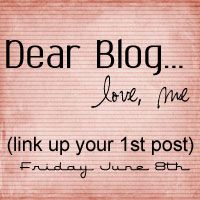 Raise your hand if you're SURE, you want a fresh start...
Soon we will be starting on a new adventure and moving to the (hopefully) great state of Missouri. Willard, MO to be exact. As of today there is 40 Days -- or -- 5 Weeks and 5 Days.
EEPPPPP, that is sure coming up soon. Good thing I'm a planner (one of my better traits), we are mostly packed up. We have been for a couple weeks now. The only stuff left is the kitchen stuff, our clothing and bathroom items. Otherwise I am ready for that moving truck to haul all of our junk in.
I am shocked that I am not overwhelmed, stressed, freaked the f out. None of that, just happy to get out and see the world.
So we are starting out this adventure in Willard, Missouri. I have never traveled to Willard. By the looks of it on-line it looks pretty nice and a good place for me and my boys.
I know I am going to have a lot of time on my hands and I am going to share my thoughts on everything from: travel, music, tv, fashion, politics, and anything else under the sun. Get yourself ready for my opinions, and pps I have A LOT OF THEM. No worries if you don't agree with them, I won't try to force them upon you. Other than how to correctly drive. I have the worst road rage, most of you know that. I need to get better. I will, I hope. It drives Ryan crazy.