Things are getting a little crazy here at DMM. I'm doing not one, but two link-ups today. Whoa! I never thought I would do that. But here I am. Good thing both of them have to do with doggies. I'm pretty good at puppy photos. I mean let's be honest, I do have the best pup to take photos of.
First link up, Fur Baby Friday with
Mrs. Monologues
.
A couple weeks our dog clippers broke. BOO! I am the one who trims the manes of all the pups. We do all the nail clippings (sigh) at home. Since we still have Ry-guy's dads pups, its much easier to do it at home. I'd rather do that, than try to corral them like a heard of cows into the car and deal with that nonsense. not happenin'.
This photo is of little Dexy Rexy with lots of hair.
I normally like him to have a shorter hair do. He will just have to work with what he's got. This weekend we will be taking him down with us to celebrate our anniversary. We're going hiking and he loves that. I can't wait to share those photos with you on Monday.
Now for the next link up....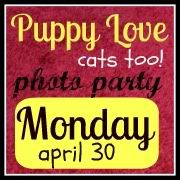 You may have seen these photos several times. These are my two most favorite photos of Mr.Morgan
TGIF loves! What are you doing this weekend?