It normally doesn't take me this long to get a Holiday card picked out. This year with the move, the new job and the fact that I felt that we didn't have any great photos for the card, we just hadn't gotten around to getting ours ordered.
We still have to get them sent to us, addressed and mailed out. I feel so behind. I hope everyone gets them before Christmas. If not, they can stare at this one till there's arrives :) Oh and of course we used Shutterfly (again) we use them for all our photo, card, stationary, etc. needs.
Well here she is: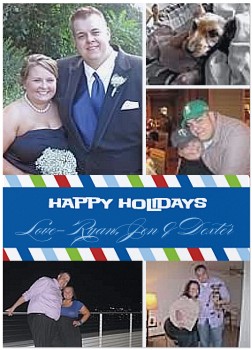 Candy Cane Stripes Christmas
View the entire
collection
of cards.